a quick list of the 5″ Propellers i do use.
it's mainly to compare things like durability and pricing. just my personal list, nothing really scientific here.
the list is sorted by my personal preference
Dalprop Fold 5
Folding Propellers from DalProp, they turn out to be surprisingly good, and smooth.
Pros: well, they fold :), on the impact they hardly break because of the flexible parts
Cons: they do make some "clicking sound" when throttling hard, which may result in some aerodynamic downsides. (i have not noticed them yet)
Cost: 25 THB/Prop
Conclusion: worth the money! they do fly extremely smoothly, perfect for traveling and filming.
Gemfan Hurricane 51433 5.1″
light and thin Gemfans with a low pitch.
Pros: very light, no vibration (like the GEPRC do)
Cons: they do break more easily than others
Cost: 26 THB/Prop
Conclusion: High-Quality Propellers for smooth flight (not too good for bashing because they break easily on impact)
Gemfan Hurricane 51499 5.1″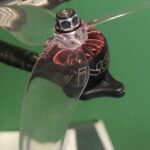 not only sharp, also quite large.
which is usually a problem as the larger surface does create the drag, but for some reason, those do not have these issues at all.
Pros: light, high quality, no vibrations
Cons: VERY Hard to find, and usually quite expensive.
Cost: 44 THB/Prop [Clones 20 THB/Prop ]
Conclusion: High-Quality Sharp angle Propellers that can Freestyle like no other, but comes at a price
Dalprop Nepal N1 5143 3 5.1″
light and thin like Hurricane 51433, but "stiffer"
Pros: light & tough "stiff flight", super cheap
Cons: they need to tighten really hard to the motor
Cost: 14 THB/Prop
Conclusion: very direct flight due to stiffness, plus the very affordable price make them a very good choice.
T-MOTOR T5143S 5.1″
The T-Motors are almost the same as the Nepal N1 in terms of characteristics, quality, and stiffness.
Pros: light & tough "stiff flight"
Cons: price
Cost: 24 THB/Prop
Conclusion: very direct flight due to stiffness, better mount than the Nepal N1, and less "sharp" form factor.
Dalprop Cyclone FF5045BN
I'm not sure those are actual Dalprops, the blades look like the Cyclones but they have some "kitchy imprint in the mold, however, they do perform well, so I do not really care about that, makes them very good for Bashing and/or training.
Pros: Light but Strong. VERY Cheap!
Cons: not too great flight characteristics, but not really terrible either.
Cost: 13 THB/Prop
Conclusion: Perfect to train with, or bando's as they are extremely cheap, can be bend back when deformed, and are quite durable.
LDARC 5×4.5×3 5045 5″ (Kingkong / BeeRotor)
Heavy duty, but durable, perfect for freestyle and training
Pros: Strong material & Cheap!
Cons: a lot of material, when they bend it's almost impossible to bend them back to their original shape.
Cost: 14 THB/Prop
Conclusion: Perfect to train with, quite durable, just make sure not to bend them during transportation.
---
GEPRC 5040 V2 5″
Extremely lightweight, not usable for flying that requires some torque.
Pros: extremely light and flexible.
Cons: they do create massive Vortex on the tips, causing huge vibrations and instability on smaller frames.
Cost: 15 THB/Prop
Conclusion: Don't Buy them unless you do Long Range with a 5″! overall Freestyle experience is just really bad (i got lucky and could trade them)
---
Conclusion
If Money is not a part of this equation, the Gemfan Hurricane 51433 would be my top pick, as they are extremely smooth, light, and handle extremely well, for Harder flying, the T-MOTOR T5143S would be my choice as they are just better designed when it comes to "stiff flight" & Precision.
but in the real world, money matters,
so with the financial aspects included, the top choice for training and bashing is the Cyclone FF5045BN (they do balance smoothness and stiffness the best at the lowest possible price) and for smooth operations, the Dalprop Fold 5 is the top choice because of ease of use/transportation, smooth flight, and well, they fold 😉
the GEPRC are the only props getting a HARD-PASS!
they did behave like the worst, extremely thin design and terrible balancing caused the whole frame to vibrate and disrupting the flight.
they also create a huge vortex at the end, which introduces prop wash in the neighboring propeller (even if they stand still)
here is a video that shows how the GEPRC 5040 induce vibrations
[embedyt] https://www.youtube.com/watch?v=b3a5_CB8Hfg[/embedyt]
just don't 😉
Photo Credit (Dalprop) QuadMeUp