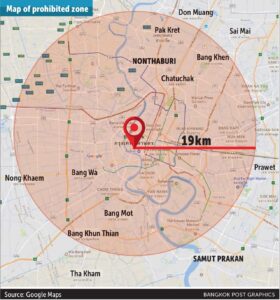 the zone "VTR1" surrounding the capital of Thailand is a permanent no-fly zone.
during the Royal Cremation Ceremony of His Majesty, the Late King Bhumibol Adulyadej in 2017
this restriction was even enforced by the military with the permission of use destructive forces.
now, this zone is still in the no-fly list, but it has a special system in place where pilot's can ask for permission directly at CAAT.
(technically this works for any no-fly zone in Thailand, but the zones have designations and may be controlled by different entities,
the overseeing Agency however is always the THE CIVIL AVIATION AUTHORITY OF THAILAND (CAAT)
they do have a special "drone section" available under https://uav.caat.or.th/ with detailed informations about Regulations, no fly zones and the registration process.
VTR1 (Bangkok Flight Permission Request)
Flying in Bangkok and the 19Km surrounding it, ALWAYS requires permission.
there is a form to download on the CAAT website that does simplify things, where you can state your intentions, time and date of the flight. and other parameters.
once confirmed, it's not really a issue flying a drone, even in the capital itself, its just a small step that has to be completed before each flight.
all details here: https://uav.caat.or.th/vtr1_detail.php