since Google decided to dump all the G Suite legacy accounts, and forcibly merge them into Google Workplaces (which will not be free of charge)
let's take this as an excuse to merge the domain hennenberger.de into apple iCloud (since i have a plus subscription anyway)
this results in the loss of serval features (like mail route management, advanced permissions, shared storage, and so on)
but let's be real, who uses it? well, I do! yes but only for my work via the company's own Google Workplace.
the advantages are Push messaging (which is actually something really handy)
and much faster delivery.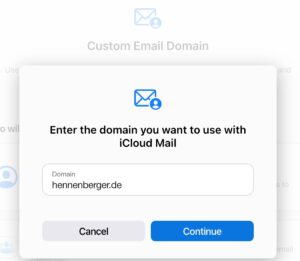 the Process could not be more streamlined
go to your iCloud settings
Click "Custom Email Domain"
add the MX, SPF, and apple Key entries to your DNS records
Click Verify and POOF, there you go, all set 😉